Football Insoles – What You Need To Know
Serious football players know the importance of good athletic footwear. And the top manufacturers make hundreds of models of football cleats to choose from – some low-top, some high-top, some with proprietary "traction plates", and seemingly all claiming to be the most lightweight, fastest cleats on the market. Whether you are a 150-pound burner or a 300-pound nose tackle, your results on the football field start from the ground up. And a good sports insole can be as important to you as the cleat it goes into. Here's what you need to know about football insoles.

1. Don't Football Cleats All Come With Insoles?

Yes, they do. But it's typically a very thin, flat layer of foam providing little support, stability or shock absorption. Over the last 10 years, many sport shoe manufacturers have "light-weighted" their shoes by removing structure – and cost. With less weight, these shoe models can claim to be "faster". However, most sports medicine experts agree that this light-weighting of shoes has contributed to increasing foot and lower leg injuries. More and more football players are turning to aftermarket insoles to replace the factory insoles that come with the cleats in order to increase athletic performance and decrease the chance of injury.

2. What Are The Most Common Football Injuries That Can Be Reduced By Insoles?

If you are a football fan, you've seen top players heading to the sideline because of foot and lower leg injuries, many of which are "non-contact" injuries. If you've played football, you understand the physical nature of the game. Many injuries caused by hard contact or large bodies in a pile-up are unavoidable. However, many injuries can be reduced with the proper gear. Some common foot and lower leg injuries on the gridiron are:
·        Turf Toe – One of the most common and debilitating football injuries, Turf Toe is a sprain of the ligaments around your big toe when it is hyperextended more than 55 degrees. Not only is Turf Toe painful, but it also reduces your ability to push off efficiently, rendering the football player less stable and less explosive.
·        Lisfranc Sprain – This is an injury to the midfoot (arch area of the foot), also known as the Lisfranc joint. Ligaments in this area are designed to hold and support the foot's bones (e.g. - the metatarsals). In football, you can injure the Lisfranc joint with just a bad twist and fall, while high-impact injuries are often more severe.
·        Plantar Fasciitis – A condition which can cause nagging pain between your arch and heel. Plantar Fasciitis can be caused by lightweight shoes with insufficient arch support. Due to the explosive movements and quick cutting, football players are susceptible to this chronic condition.
·        Knee Injuries – One of the most common being a tear to the anterior cruciate ligaments (ACL), which is responsible for 90% of the knee's stabilization. A recent study showed about 200,000 ACL injuries occur every year with about half of those requiring reconstructive surgery. While a knee injury can certainly result from physical contact, it can also occur due to planting and cutting (non-contact).
·        Ankle Injuries – These are the 2nd most commonly reported injuries in high school football behind only face/head injuries. All too often, a player will land awkwardly or on another player's foot leading to a torquing injury causing the ankle ligaments to stretch beyond their normal limits.
·        Fractures – Each foot contains 26 bones, some of which are thinner than a pencil. The constant running, stopping and physical impact in football can stress the bones and joints. Small breaks or stress fractures can develop over time.
·        Achilles Tendinitis – Pain on the back of your leg from your calf to your heel, could be due to an inflammation of your Achilles tendon. This can be caused by excessive running, quick starts or a failure to stretch and warm your muscles before playing.

3. How Can Insoles Help in Football?

Quite simply, it all starts from the ground up. Whether you play in the trenches or plan to fly down the sideline, it's all about beating your opponent at the line of scrimmage. Your athletic explosiveness starts by how much force you can put into the ground with that first step. Athletes, and especially football players, are more likely to perform better and avoid injuries when they are starting with a stable foundation.
Aftermarket insoles are designed to provide more arch support, more heel stability and more shock absorption than most of the insoles that come in football cleats. And they also provide more comfort. If you find an aftermarket insole that you like, you can keep that same fit, feel and comfort level from shoe to shoe, no matter how often the big sneaker companies change their football cleat styles. And if you are hard on your shoes, you may find that good aftermarket insoles will help extend the life of your Nikes.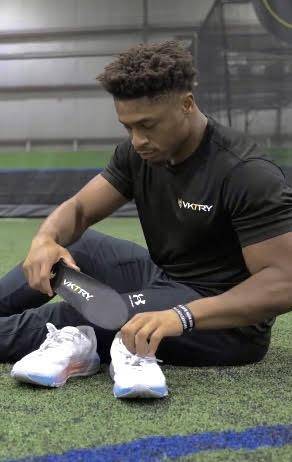 4. What Are the Best Football Insoles?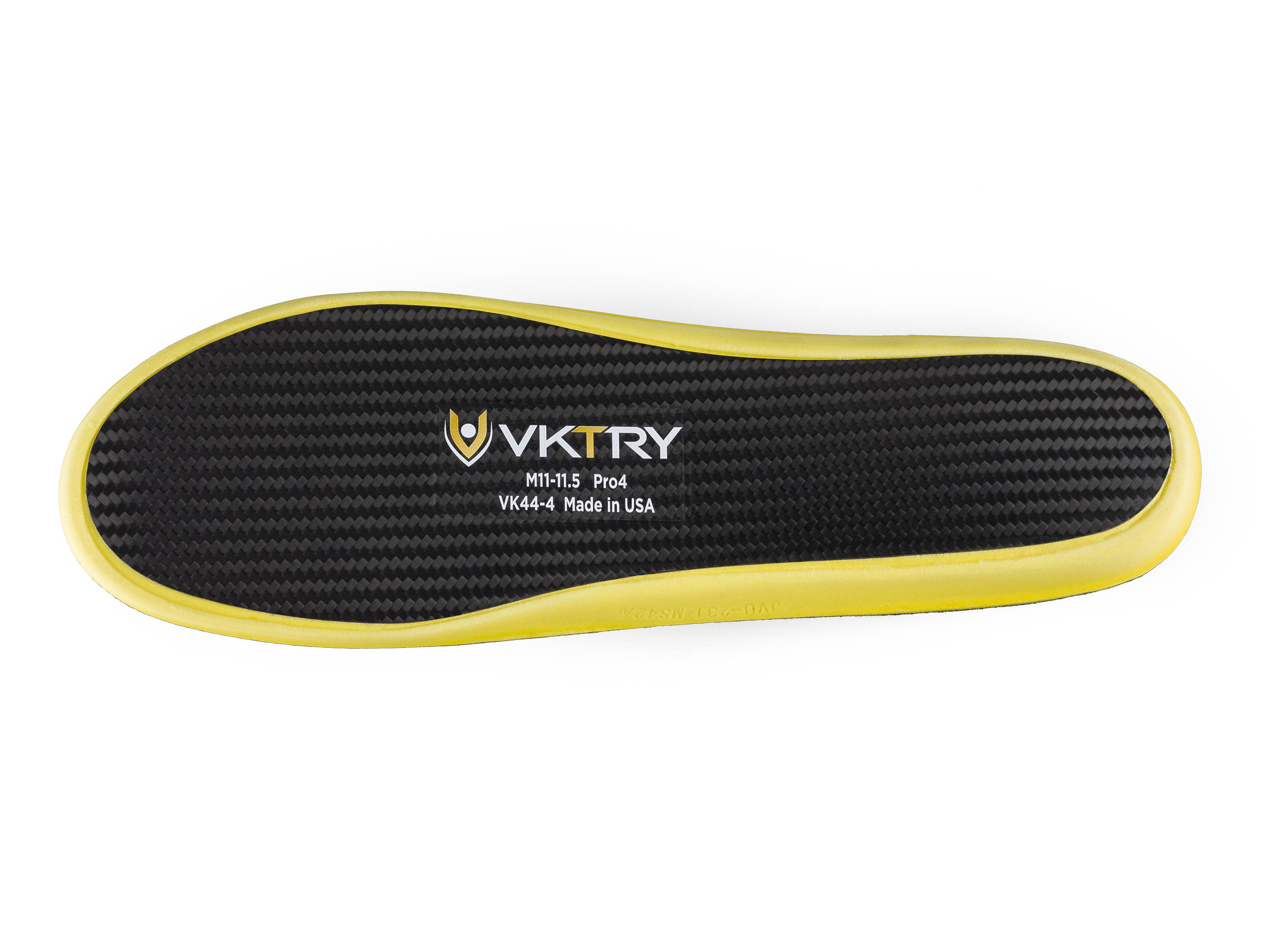 The good news is that there are many brands and products to choose from. Most products on the market are made from foam and plastic. The added structure can provide arch support and comfort and that may be all that a casual football player is looking for. Brands like Dr. Scholl's offer Sport Insoles for $20-$50. Or you can upgrade to brands like Superfeet, Sof Sole and Currex for $40-$70. All of these products are upgrades over the simple foam insoles that come with your football cleats.
For athletes more serious about their sports, VKTRY Insoles are full-length, carbon fiber insoles that sell for $99-$169. They are the only insoles scientifically proven to help athletes run faster (0.12 seconds faster in the 40) and jump higher (+1.6"). A 12-month PhD-led study at Southern Connecticut University showed that "VKs" improve rate of force development (aka explosiveness) by an average of +9.3%. If the shoe or an insole is too soft, an athlete can lose responsiveness. The VKTRY Insoles provide a firm, stable base for push-off to help with that important first step and cutting to avoid defenders.

5. How VKTRY Insoles Reduce Injuries

VKTRY recently completed a study of 263 D1 football players at four major US universities (Texas A&M, Northern Illinois, North Carolina State, and Duke). After a full season of practices and games, the Athletic Trainers from each school reported their findings back to VKTRY. Compared to the 3 seasons prior, the "VKTRY year" resulted in 41% less foot/toe injuries and 22% less lower leg injuries. One year later, the Korey Stringer Institute conducted an independent clinical study of VKTRY Insoles and published a white paper explaining how VKs reduce injuries.
"After an extensive 6-month research study, it is clear that VKTRY Insoles improve lower body biomechanics, stability of the ankle and knee during running, and shock absorption during landing. These improvements can help safeguard athletes by providing injury protection."
— Dr. Douglas Casa, PhD, ATC, Professor of Kinesiology, CEO of KSI (Korey Stringer Institute), member of the NFL Executive Committee

6. What People in the Football World Say About VKTRY Insoles

"If a teammate asked me about VKTRY Insoles, I would tell them that this is the one product that would help them take their game to the next level. Foam insoles don't respond or give you anything back. Wearing VKTRY's carbon fiber insoles, the one thing I notice instantly is that extra power & explosion that they give me to help me separate from a defender. Having this high-tech product inside your cleats makes you feel like no one can stop you on the field."
– Jonathan Taylor, All Pro Running Back, Indianapolis Colts
"We have used VKTRY Insoles on several of our players with nagging foot and ankle injuries. All of the players that have used VKs report a decrease in pain as well as additional support that their current cleats did not provide."
– Todd Toriscelli, Director of Sports Medicine, Tennessee Titans, using VKs for 5 years.  
"Because of the VK design, I can reduce sports injuries. The benefits of VK Insoles is valid and undeniable."
– Jack Marucci, LSU Director of Athletic Training for 20+ years and using VKs at LSU across multiple sports for the last 7 years.
If you want the best football insoles for performance and protection, trust the insoles used by the world's top athletes and sports medicine experts. There's no substitute for VKTRY.
How Insoles Can Help Your Pickleball Performance >